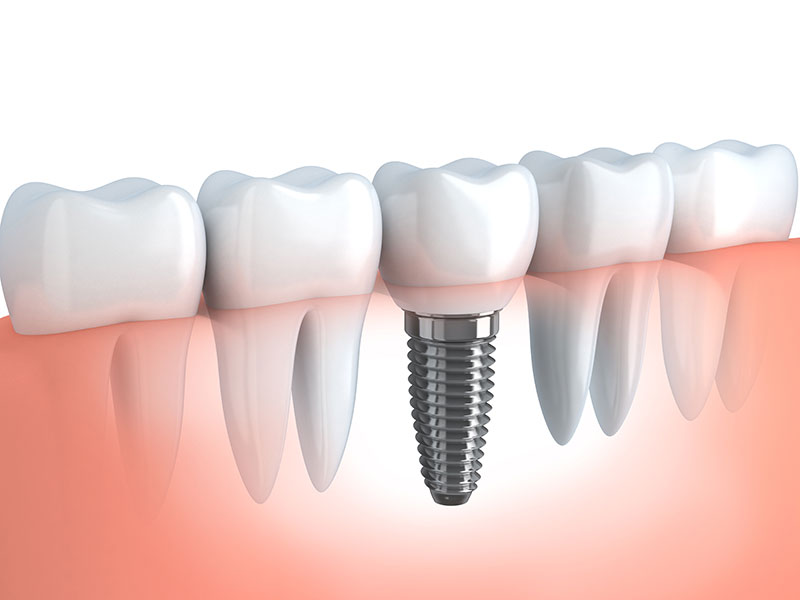 Choose a Solution That Looks Like Your Real Teeth
Dental implants are a great solution to missing and damaged teeth because they look and feel like real teeth. Because dental implants are surgically placed into your upper or lower jawbone, they are completely secure. They look so natural that no one will ever know that your implant isn't a real tooth!
Durable Alternative to Bridges and Dentures
Implants fuse with the jawbone, offering firm support. Dentures, bridges or single teeth mounted to the implants won't slip or shift in your mouth – a significant benefit when eating and speaking.
This secure fit also helps implants feel more natural than typical bridges or dentures. Dental implants help preserve the bone after teeth are lost or removed. Implants are of good value because they can last a lifetime with good care.
Why Should You Choose a Dental Implant?
Replace one or more missing teeth without affecting adjacent healthy teeth
Resolve bite problems caused by teeth shifting into the missing tooth's space
Completely restore your smile
Enhance chewing, speech, and digestion
Restore and enhance facial tissues
Support another bridge or denture, making them more secure and comfortable
Choose a Solution That's Right for You
Dr. Dolgov is our implant specialist here at Southern Minnesota Periodontics, P.A. His precise work with the gums and supporting bone is essential to the best aesthetic outcome possible.
Our doctors use Nobel Biocare implants. They are the world leader in innovative restorative and aesthetic dental solutions and provide Dr. Dolgov with advanced science-based solutions from tooth to root, for all indications.
Why Patients Need Their Implants Placed at Southern Minnesota Periodontics, PA?
We have additional 3 years of specialization in surgery and implant dentistry over any other dentists
We place Nobel (world leader and first implant company in US market since 1981) and Zimmer implants (Zimmer is a world leader in orthopedic implants)
We place 200+ implants a year
Our practice has served the community for over 35 years
Cutting-edge technology, including CT scans (3D X-rays – more precise, more predictable, fewer complications)
We are engaged in continuous educations all the time
Our dentist has several publications, co-authors an implant textbook and gives lectures etc.
Our services are reasonably priced